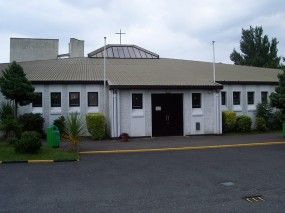 Sunday
11.00am
Saturday
6.30pm (Vigil For Sunday)
Tuesday – Friday
9.15am
Note: No Mass on Mondays
Holy Day of Obligation
See Current Bulletin

Church Address
Sacred Heart Church
Whitestown Way
Killinarden
Tallaght
Dublin 24 D24 YR89
Constituted/History: 1977 from Springfield.
Initially in pastoral care of Priests of Diocese of Dublin.
In pastoral care of Missionaries of the Sacred Heart (MSC) since July 1984.
Church of the Sacred Heart opened and blessed on the 10th December 1989 by Most Rev Desmond Connell, Archbishop of Dublin.
Please check weekly newsletter for possible changes.
Confessions: By appointment
Baptisms, Funerals and Weddings by appointment only. Weddings require 6 months notice to Parish.
All Baptisms take place on Sundays at 12.30pm and 1.30pm The Registered Charity number is RCN 20016166